Filter Special Collections 002
These items are no longer available for sale, but represent examples of inventory previously sold by Sturgis Antiques.
In this special collection, Sturgis Antiques is happy to have selected rare records from this one client. Their collection is one I have never seen before, the amount of records, the quality and rarity of almost all his records has been overwhelming.
This section will be some of the rarest garage and early soul music from their collection which has been collected for over 55 years.
Enjoy the records has much as I have in cataloging presenting them here for sale.
There are 2 total records.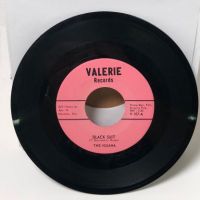 The Iguana Black Suit b/w Leaving You Baby on Valerie Records – V-107.
(Note: original 1966 pressing NOT reissue)
The Iguana were [...]
Art Guy Where You Gonna Go b/w Teenage Millionaire Valiant Records – V-762.
February 1967, Guy was the drummer for Smokestack Lightin' and cut this [...]