⬅ Return to collection
Art : 1900-1940s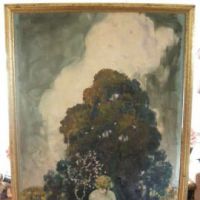 Attributed Arthur Bowen Davies Oil on Board Nude at Waters Edge Unsigned
Arthur Bowen Davies Oil on Board Nude at Waters Edge
Arthur B. Davies (American 1863-1928) Painter and advocate for Modern Art in America for the 1913 Armory Show and member of The Eight.
His association with The Eight, also called Ashcan School was an influential movement with such figures as Robert Henri, George Bellows and John Sloan. The movement was based in New York and used the poor and forgotten slums of the city as their subject. His work as one of the major organizers for the 1913 Armory Show in New York, considered to be America's introduction to European Modern Art. Picasso, Duchamp, Cezanne, and others were displayed next to African Art, and American Artist like Henri, Sloan and Davies were given the limelight and given a world stage audience.

His work with the Armory show gave him an introduction to artist and styles and his art reflected this exposure to these styles. He took on Cubist to Cezanne style landscapes as well as developing his own philosophy of color creating his unique style. Most of his mature work has the mystical/ allegorical subject with his colors being brought to forefront and creating the mood of his art.
This is a very quick overview of his work but in this piece you can see both the mystical/ allegorical subject, a idyllic scene of elegant nude leaning and staring into the pond. This is similar to the story Greek story of Narcissus, Greek mythology being a large part of the Art Deco movement when this piece appears to be done.

Similar subject and styles in his paintings as well as a letter from Bennard B. Perlman giving his inclined opinion that this piece is very much in the style of Arthur Davies and can very likely be one of his pieces. This large oil is on board and bares similar attributes to the mural panels done for Lizzie Bliss Estate circa 1923.

Davies was a unique artist in that a lot of known works are not signed and his life was spent between two families.


SIZE: frame size 32" x 61 3/4
Artist Board 29" x 58"

Condition: Bold Colors and unsigned artist board. Some paint loss to the edges from the frame slipping, minor moister marks to the paining surface.

Provenance: bought in Baltimore Md, circa mid 1960's
A copy of Letter from the Arthur Davies history and author Bennard Perlman is available for review.

If you have any questions or need additional information, please feel free to email me.
NOTE:
Due the size, special shipping will be required. No shipping cost has been added, please contact me for a shipping quote before purchase and please email me your shipping address to get a detailed shipping cost.

No Conservation has been done for this piece. A third party conservation can be obtained at a cost by a third party museum trained conservator. References available upon request.
Detail photos Click to enlarge