⬅ Return to collection
[uncategorized]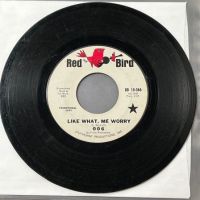 006 Like What, Me Worry b/w Why Can't I Stay on Red Bird Promo 1966 Garage Band From Chicago
006 Like What, Me Worry b/w Why Can't I Stay on Red Bird RB 10-066 PROMO.
A Chicago Garage rock band formed in 1964 and had two singles, 1965 and 1966. This single was from 1966 and was on a few different labels. One is a small Chicago based label with about 5 releases and then also on Red Bird, a larger national label with many top 40 hits.
This the band's second single and is the Promo
SIDE 1

SIDE 2

Condition: Vinyl is low VG, visually both sides have marks and wear. Sound is low VG+, plays amazing and sounds better than it looks, occasional crackle heard very low and pressing defect causing small thump towards end of song. No tracking issues. SIDE 2 plays with very low surface noise sometimes heard but very low. Labels are low VG+, very faint and light rubbing at high point from storage and B side has pen mark around title. Sleeve is generic white.
If you have any questions or if you need additional images, please feel free to email me.

Note:
shipping cost is for US only, if you are an over seas buyers please email me your shipping address to get a shipping quote
Detail photos Click to enlarge