⬅ Return to collection
Historical Memorabilia : Medical & Oddities : Mid-century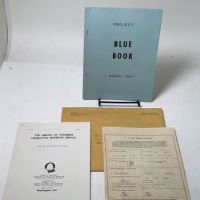 1 March 1967 Project Blue Book Packet with Original Manilla Envelope Address to Recipient Complete Official Government Documents
Project Blue Book was the code name for the systematic study of unidentified flying objects by the United States Air Force from March 1952 to its termination on December 17, 1969. As the result of the Condon Report (1968), which concluded there was nothing anomalous about UFOs, Project Blue Book was ordered shut down and ended, it had collected 12,618 UFO reports, and concluded that most of them were misidentifications of natural phenomena (clouds, stars, etc.) or conventional aircraft.
The collection here includes the original mailing envelope package addressed to the recipient in Maryland. My client has been working on this persons personal collection with many 60's and 70's protest and counter culture items, ephemera, records and political items.
This collection was mailed to, or at least address to this person, the name and address is handwritten.
Contents:
Stapled March 1 1967 Project Bluebook
14 pages with outline of project and aim with instructions on the forms included in the mailed out packet. Statistical data on common misidentified UFOs and details of occurances since the start of the program. The last page has a small article written by Carl Sagan.

Form FTD Oct 62 164 US Air Force Technical Information
A questionnaire on condition and sighting with location and how the object was seen. 7 pages on a cream colored paper, stapled on top left. The staple is older with light aging and rust at the staple.
The Library of Congress Legislative Reference Service Form UG 633 SP 109
Dated on the front May 5 1966, a table of contents on the first page with Summary, Introduction, The Unidentified Flying Object , U.S. Government Monitoring of UFO Activity, Public Reaction to UFO's, Footnotes and Appendices. Stapled with the last page being loose and not attached. 29 pages.
Original Manilla Envelope
Address to recipient in Maryland (redacted here, a small homage to the project)
Condition: very fine, never used or written or filled out. The staples are older with some age and rusting to them. One stapled group of pages has the last page being loose and is unattached. The envelope has light bends and wrinkles from being shipped and stored for years. You can see wear the glue was used to seal the envelope. Please see the images for more details.
If you have any questions or if you need additional images, please feel free to contact me.
NOTE:
The price for shipping is for US buyers only. If you are an overseas buyer please contact me before purchase to get a shipping quote. Please provide me with your shipping address.
Detail photos Click to enlarge