⬅ Return to collection
1800s
This item has been sold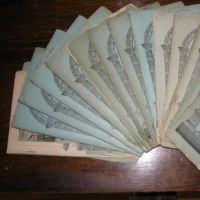 14 The Freemasons Repository Magazines 1885 Pub by E. L. Freeman in Providence RI Henry Rugg
13 1884 and one 1885 "The Freemasons Repository"
Published monthly for Mason and Their Families
Published by E. L. Feeman & Co. in Providence Rhode Island and Edited by Henry W. Rugg

The contents of writing about and for Masons with wonderful late 1800's adds for businesses and Patent Medicine.

I am selling these as a group lot.
Condition: Varied condition on each magazine. The covers are chipped at edges and some have separated from the stapled binding. Most covers are intact, 2 have damaged or no cover.

Issues:
March 1884 No. 6 Vol XIII
April 1884 No. 7 Vol XIII
May 1884 No. 8 Vol XIII
February 1884 No. 5 Vol XIII
January 1884 No. 4 Vol XIII
October 1884 No. 1 Vol XIV
January 1885 No. 4 Vol XIV
February 1885 No. 5 Vol XIV
November 1884 No. 2 Vol XIV
June 1884 No. 9 Vol XIII
August 1884 N. 11 Vol XIII
July 1884 No. 10 Vol XIII
September 1884 No. 12 Vol XIII
March 1885 No. 6 Vol XIV

If you have any questions or need additional images, please feel free to contact me.


Detail photos Click to enlarge