⬅ Return to collection
Antique Furniture : 1800s
This item has been sold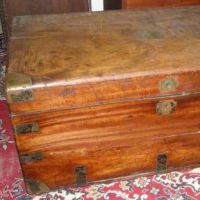 1800's Large Camphor Wood Chest with Brass Corners and Plates
Camphor Wood Chest, circa late 1800's.
Most of these trunks were from China where the largest Camphor wood was found. The wood has a strong aromatic smell that at one time was used to cure stuffed up noses.
In the 1800's and before in the age of sea travel, sea captains sought out the wood and the trunks to keep their cloths free from Moths.
As well as the smell of the wood, the grain of the wood is wild and is one of the most beautiful woods.
The wood on this trunk is still has the strong and pleasant smell of the camphor and the wood has the typical wild grain. There is age separation on the top of the trunk, but this does not effect the structural integrity.
The handles are iron and the accents/ straps are brass. The Trunk has cast iron wheels that keep the trunk off the floor. The lid stay and the hings look to be newer, so I believe they are not the original hinges.
The size of the trunk is approx. 3 feet long x 19" deep x 18" high.
Due to the weight of the this trunk, approx. 30+ lbs. the trunk will have be shipped Via Greyhound. Please contact me before purchase so I can get you a quote.
If you need additional images or have any questions, please feel free to email me.
Detail photos Click to enlarge