⬅ Return to collection
Antique Accessories : Jewelry : 1800s
This item has been sold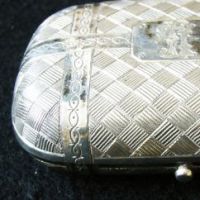 1800s Russian Silver Coin Purse Hallmarks JAL Silversmith Decorated St. Petersburg
Another Antique, circa 1880's Russian Silver, this one is marked with JAL Russian Silversmith.
The 84 with mark is very clear and intact.
Both are from the same estate's family.

Condition is very good with the interior fabric and silver trim both in remarkable condition.
The piece is monograph on the front.

Hallmarks: 84 with St. Petersburg mark, circa 1882-1899
JAL, makers initials ( unknown maker)

Weight: 2.34 oz
Size: 2 1/4 x 3 1/2 x 1

If you have any questions, please feel fee to contact me.

Detail photos Click to enlarge