⬅ Return to collection
Historical Memorabilia : Medical & Oddities : 1800s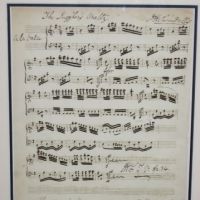 1830's Handwritten Sheet Music by James H. Swindells For Carnival Performer Juggler and Sword Swallower Le Fevre
An early piece of Circus History!!!!
Also a early piece of Baltimore performance history, sadly no reference to where the performer and or where the circus performed in the 1830's.

A hand written sheet music written for a juggler who would swallow swords. The piece is annotated at the bottom with a small history, stating that it was written in Baltimore Md.
The Title is " A Jugglers Waltz" written by J. H. Swindells.
Hand written in a iron based ink.
The piece has been framed and the client said that there is nothing on the back of the page.

The bottom written text also states that this was written for the juggler in Baltimore by the musician and conductor James H. Swindells, Swindells was a conductor and musician in New York City primarily. He was the editor of Lyre from 1824-1825. He was also noted for music of "Which is The Traitor", a 3-act play in 1825 with Samuel Woodsworth as well as Marche Religieuse 1824.
Text states the piece was written for Le Fevre who was a New York area performer and circus juggler and states the piece was written for a French Indian Juggler who swallowed swords, as the text says, "as it is called Six Swords".

On researching, Baltimore had in December 1831 the "Cannibal Show", a show Benjamin Morrell promoted with his recently captured "Cannibal" Dako a Papua New Guinea native.
"Benjamin Morrell captained the Antarctic on a sealing expedition between 1829 and 1831. Morrell captured -- that is, kidnapped -- two South Pacific natives during the unprofitable expedition. Named "Sunday" (actual name Dako) and "Monday" (actual name unknown), the two were forced to return to New York City with him and the ship. Heavily in debt, Morrell capitalized on the interest of New Yorkers in his travels. He presented a show with an embellished account of his travels and displayed the heavily tattooed men as "South Pacific Cannibals."
After the show ended in New York, Morrell took the act on the road. Their first stop was at the Albany Museum in October 1831, the show did a small tour, Baltimore being one of the stops.
This piece could very well be a piece of this this historic Circus.
I am open to any additional information on this piece you be willing to share.

Size: 9 ½ x 13 ½ approx.
Condition: Fine, minor staining to the edge. Framed

If you have any questions or need additional images, please feel fee to email me.

William Harrington (1804-1847), a four-horse and scenic rider, had been performing at least since 1825. In 1831-32-33 he was the manager and star performer of his own circus. He later in the 1840's fell off his house while performing which caused him to have physical problems which later lead to him committing suicide in late 1840's, circa 1848.
Detail photos Click to enlarge