⬅ Return to collection
Antique Accessories : Medical & Oddities : 1800s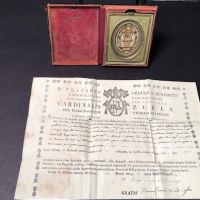 1834 Reliquary 15 Saint Relics with Red Wax Seal of Cardinal and Signed Document from Cardinal Zurla In Leather Case with Father of Virgin Mary St. Joachim
Placido Zurla, O.S.B. Cam., (April 2, 1769 – 29 October 1834), became a Cardinal in 1821 and served as Cardinal Vicar to Pope Leo XII and his two successors.
He died in October 29th 1834.

The document is Order of Saint Benedict (Benedictines Institute of Consecrated Life - Men) and is dated Month of May ( Mensis Maji) 1834 several months before he dies.
The document has the seal on the lower left of the document and is partial printed and hand written the list of Saint's Relics and is signed by the Monsieur on the bottom right.
The Reliquary comes in a leather case, fitting the framed relic perfectly. The labels are hand written and document each saint. The reliquary is very similar to what people will see as a Dagueruptype case, both in size and construction, the hand hammered copper case is very similar to early photography case images. (The case image was used prior to photography in miniature portraits, both in the frame and case)
The back of the reliquary has the original seals, the red seals with the cord and the Cardinal Seal has not been altered or damage and is original to the reliquary.
I have not translated the Latin names of the saints.
One notable saint is the bottom, that reads Joach. Part. who was St. Joachim Father of Virgin Mary.

Please see the images of the reliquary for details. If you have questions, please feel free email me.
If you have any questions or if you need more images please feel free to contact me.
NOTE:
The price listed is for US. If you are an overseas buyer please email me your shipping address before purchase to get a shipping quote.
Detail photos Click to enlarge