⬅ Return to collection
Historical Memorabilia : Military Memorabilia & Art : 1800s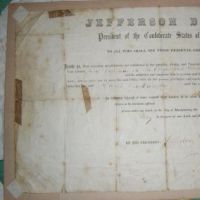 1861 Appointment Document Signed By Jefferson Davis Confederate Army Civil War May 17th 1861
A signed and dated Appointment document for Capt. David D. Marston by Jefferson Davis for his service in the Confederate States Army. Signed by Jefferson Davis as well as Henry Fourlie, for Secretary of State, dated May 17th 1861.
The Civil War is started in Feb. of 1861 and the Confederate Army started to Rally. Jefferson Davis was appointing able body men for as the document states "Provisional Government".
Also note, that this document is in the very beginning of the War, the document printed with the city of Montgomery.

Both Signatures are real, both appear to be period Iron Based Ink.
The document is loosely taped to a board, I have not tried to remove the tape, and I have not viewed the reverse side of the document.
As you can see, the document has been folded and has some foxing and tears to the folds and edges. Staining is through out the document.


If you have any questions, please feel free to email.
Detail photos Click to enlarge