⬅ Return to collection
Jewelry : 1800s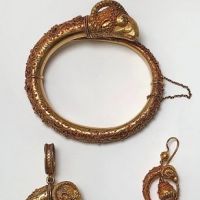 18k Gold Etruscan Revival Ram's Head Bracelet Earrings and Brooch Set Grand Tour Circa 1800's
18k Gold Etruscan Revival Ram's Head Bracelet Earrings and Brooch Set
Italian Etruscan Revival was handled and created by Castellani, who made filigree and exquisite Victorian era Etruscan Revival jewelry.
MARKED on the tongue of the bracelet clasp with diamond and C, please see the last photo posted.
Castellani was founded in 1815 in Italy. In Italy, ancient gold Etruscan jewelry was being newly discovered and the victorian era with its rediscovering of the past human marvels began to copy or influenced by the past. The most common revival of era was Egyptian Revival, which carried on till the first quarter of the 20th C. in fashion and style. "Roman jeweler and art dealer Fortunato Pio Castellani saw his opportunity and swiftly presented the public with an easy alternative to the ancient by developing a chemical method to reproduce the warm, deep yellow tones of the ancient gold. For three generations the Castellani family created what they called "Italian archaeological jewelry," which was inspired by the precious Etruscan, Roman, Greek, and Byzantine antiquities being excavated at the time. The Castellani jewelry consisted of finely wrought gold.."
The company prospered into the later 1800's with the Grand Tour of the wealthy who traveled far and wide across the globe, and one such memento was jewelry. Jewelers would create/ copy and be influenced by these ancient times and the these new travels would be the perfect benefactors.
Sturgis Antiques is very proud to have such a set for sale. The family is from Italy and they had a means to be such travels and explorers. The Etruscan Revival Set is a Bracelet, Earrings and a Brooch all adorn with the Etruscan tropical figure, the Ram
All three piece are matching with style making this one of the better sets I have ever seen.
The Set is marked on the tongue of the bracelets clasp. Please see the photo of this detail.
The Bracelet, hinged and clasped with chain stop when opened. Amazing and detailed filigree throughout the bracelet.
The Earrings, with mirror of the bracelet but with the added ball in the center.
The Brooch almost identical to the earrings but larger and more elaborate filigree work.


Condition: Almost Perfect but the bracelet has small break on the horn, please see the picture. All other pieces are in near perfect condition. I have not cleaned or alter these pieces in any way. Please see the images for details and for a visual description.
If you have any questions or need additional images, please feel free to email me.
Note:
The price for shipping is for US only, if you are an international buyer, please email me your shipping address before purchase to get a shipping quote.
Detail photos Click to enlarge