⬅ Return to collection
Art : 1700s
This item has been sold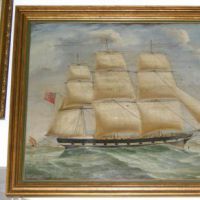 18th-Early 19th Century English Tea Ship Original Oil Painting on Canvas
English Tea ship, circa late 18th to early 19th century, original oil painting. The painting is unsigned on the front but the top flag reads, "Emily", and the stern's flag is a British Union Jack.
The ship is a clipper ship with painted Gun Ports, this simple disguise helped the ship to pass as heavily armed and halted the attacker for a brief amount of time.
I do have some history on the painting from the estate.
Purchased in 1950's from an elderly woman who owned the house, the original label from a crate read "The Contents of this box (paintings) belongs to Mrs. Helen G. Hedden Stanton of New Orleans and was left to her by her brother H. H. Hedden…" The research about the family led me to a dispute over the contents of an estate of E. A. Heddon who passed away in the mid 1800's.
The canvas is stapled to a piece of plywood and there are some small areas of damage on the canvas. There are three small holes on the right side and some paint loss in the sky area.
The estate has no other information to give but the painting does stand on it's own merits.
Size: 27" x 39"

If you have any questions or need additional photos, please feel free to contact me.

Detail photos Click to enlarge