⬅ Return to collection
[uncategorized]
This item has been sold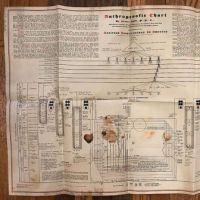 1918 Anthroposofic Chart for Societas Rosicruciana 22 x 31 Inches Alchemy and Religious Golden Dawn
Rosicrucian Chart Circa 1918, privately printed

Water Marked Paper WB Defiance Bond 1918

Title: Anthroposofic Chart by Frater Hade (?), F.R.C.
Metropolitan College, Societas Rosicruciana In America, New York City, Metropolitan College, Societas Rosicruciana In Anglia, London
Privately Printed for the Societas Rosicruciana in America

Size: Approx 22 x 31 inches

Condition: Fine with fold marks, chipping on the Top and right side edges. Staining to the center and the bottom center edge of the paper.
Some pencil writing on the back of the page.
Please see the images for details of the this item.

The Chart states that this is the elemental teachings of Rudolf Steiner, Max Heindel and other occult theosofical teachers. The Chart is in 9 sections, A-I
Column A is Zodiac, alchemy symbols
Column B The Astra, Desires World
Column C names of forces of human structures
Column D Regional Divisions of the Various Worlds
Column E Twelve Signs of the Zodiac
Column F Organs which various seed atoms are situated
Column G Different Parts of the Soul and
Column H Oriental Theosofical names of the worlds and the forces that act in them
Column I Grouped together to indicate the constitution of the Ego, Mind and Personality

An amazing cart of the the basis behind the Rosicrucian theory and practice.

If you have any questions or if you need additional images, please feel free to email me.

Note:
Shipping quote is for US only, over seas buyers please email me your shipping address to get a quote.




Detail photos Click to enlarge