⬅ Return to collection
Albumen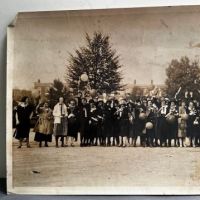 1920 Baltimore Suffrage Photograph American Hammered Piston Ring Co. Women's Right to Vote
1920 Women's Suffrage Photograph from Baltimore MD. The group of women celebrate the 19th Amendment, the women's right to vote. These women stand proud, and celebrating, all smiles and cheering with balloons and noisemaker. Many of the women are wearing large buttons but I can not make out any of the words.
The back of the photograph reads "Girl Voters American Hammered Piston Ring co." The company is the American Hammered Piston Ring co., a company located in Baltimore. The company was vital part of both wars, making large piston rings for engines.
A rare suffrage image and a piece of Baltimore history.
Even though these women are celebrating, women of Maryland didnt get the vote right away, .."The Maryland legislature rejected the 19th amendment in 1920 when presented to them for ratification because they felt that the amendment impeded states rights. Maryland did not formally ratify the 19th amendment until 1941.
Even after the 19th Amendment reached full ratification, Maryland women faced challenges in fully exercising their right to vote. On October 30, 1920, Oscar Leser, a prominent Baltimore attorney and anti-suffrage activist, and others, filed a petition in court challenging the right of women to be added to the registry of voters as well as the validity of the Nineteenth Amendment. This case made its way to the U.S. Supreme Court, which declared in 1922 that the Nineteenth Amendment was valid and women were legally entitled to be registered voters."
Size: 8 x 10
Condition: the photograph has bent corners and two tears on the right side. The Photo is still intact and the tears are repairable. Please see the images for more details.
Please feel free to email me for more images or if you have any questions.
NOTE:
International orders, please email me your shipping address before purchase with your address to get a shipping quote. The shipping price is for US buyers only.
Detail photos Click to enlarge