⬅ Return to collection
Jazz : 1910-1920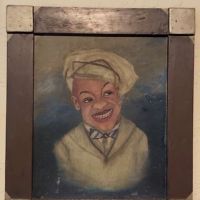 1920s Painting on Canvas Board Portrait of Jazz Era Man with Beret in Folk Art Frame
1920s Painting on Canvas Board Portrait of Jazz Era Man with Beret in Folk Art Frame
The painting is on a canvas artist board and is unsigned. The board is old and by the look of the man's clothes he is circa 1920's. The white hat appears to be a large beret style hat and very similar the French hat, casquette. Both of these hat were very fashionable in the 1920's. The 20's had embraced the French Culture, the art, political liberalism of the avant-garde and their shedding of old standards of morality but in America Jazz was our add to early 20th culture. In America, Jazz men were at the height of fashion with many musicians going to France to perform, Ragtime was the go to music in France at that time.
The portrait is of man who is proud and most likely an entertainer, his flair for current fashion of the time and the fashion of France is very evident. The painting is unsigned and there is no attribution on the back. Framed in a antique folk art frame, the simple wide profile frame with sliver, most likely silver radiator paint corners, accents this great frame.
The painting is on a canvas board and has been unaltered.
Size: frame is 15 1/4 x 17 3/4
painting is 11 1/2 x 14 1/2
Condition: The painting has not been altered or cleaned. As you can see the dust has built up on the back of the painting. There are some marks on the right side next to the man but it does not affect the portrait. Please see the photos for additional details.
If you have any questions or if you need additional images please feel free to contact me.
NOTE:
International orders, please email me your shipping address before purchase with your address to get a shipping quote. The shipping price is for US buyers only.
Detail photos Click to enlarge