⬅ Return to collection
Medical & Oddities : 1900-1940s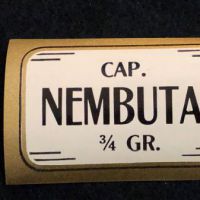 1920's Unused Apothecary Label Cap. Nembutal 3/4 gram Barbiturate Drug Downer
Cap. Nembutal 3/4 gr.

Nembutal is a Barbiturate, also called pentobarbital, Downers, goofballs, barbs, reds, bute, stoppers, yellow jackets, black beauties, M&M's, nembies, rainbows.

Psychological Effects: Like alcohol inebriation, but with greater euphoria and disinhibition. Higher doses can lead to memory loss, greater impairment in judgment, paranoia and suicidal ideation
Physical Effects: Sleepiness, slurred speech, decreased respiration, and can lead to death. Tolerance develops quickly, and danger of an overdose, especially when taken with another drug, is significant
This printed Pharmacy label is circa 1920's and came from a local pharmacy that bought the business in 1927.
This is one of many labels I have and will posting more narcotic and other no illegal compounds.

Size: 1 7/8 x 2 7/8 inches
Condition: unused, a slight curl to the paper. Gold boarder is in very fine condition. These are original and never used Labels. Please see images for details and a visual description.

If you have any questions or if you need additional images, please feel free to contact me.

Note:
shipping cost is for US only, if you are an over seas buyers please email me your shipping address to get a shipping quote.
Detail photos Click to enlarge