⬅ Return to collection
Snapshots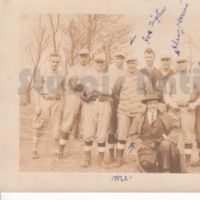 1921 Baseball Team Bethlehem Spark Plug Silvex Photographic Postcard
Another Snapshot from the collection out of Pennsylvania.
This one is of the Bethlehem Spark Plug Co Baseball team "Silvex"
On the back it is stated circa 1920 or 1921.
Mentioned this is him after he got back from the war, most likely WWI
The image is printed on a photographic postcard.
The two names are written in ink, hard to make out the last names.

Size" 3 1/4 x 5 1/2
Condition: slight fading to the image.

If you have any questions or need additional photos, please feel free to email me.

Detail photos Click to enlarge