⬅ Return to collection
Jewelry : 1900-1940s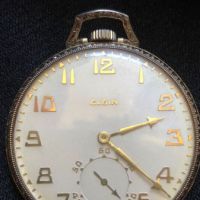 1922 Art Deco 14k Gold Lord Elgin 19 Jewel 8 Position Pocket Watch
Year: 1922
Serial Number 26,249,920
Model: Lord Elgin Classic
Maker: Elgin

The inside case is marked 14k Wadsworth Solid Gold and the outside case is marked 14k Gold Pat. Sept 12. 22with serial number 11618 59

A beautiful 14k gold, marked case, dedicated in 1925 to man for Coral Gables Sales Force in Miami Fla.
the backside of the case is engraved with initials FSH (Frederick H. Schroeder)

Condition: Near Perfect, no scratches or dents to the case. No rust or damage to the face. The watch runs well but will need to be cleaned and aligned.

"Coral Gables, the City Beautiful, stands out as a rare pearl in South Florida, a
cohesive community built on a grand Mediterranean Revival architectural style to
create an overall harmony with the environment. Early city planners and
visionaries were influenced by the aesthetics of the City Beautiful Movement
that swept across America in the early 1900's. Inspired by the works of
landscape architect Frederick Law Olmstead, who designed New York's Central
Park, The City Beautiful Movement encouraged the use of wide tree-lined avenues,
monumental buildings, winding roadways, green space, ornate plazas and fountains
galore. All these elements of style have been and continue to be incorporated by
Coral Gables city planners."

If you have any questions or if you need additional images, please free to email me.





Detail photos Click to enlarge