⬅ Return to collection
Rare & Unique : 1900-1940s
This item has been sold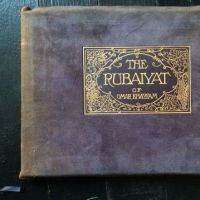 1922 Roycrofters Purple Suede with Gold Embossed Cover The Rubaiyat of Khayyam
Title: The Rubaiyat of Omar Khayyam
Year: 1922
Deckle edge water marked Roycroft watermarked paper with Roycroft symbol. Original reverse calf skin dyed purple with blue silk page marker.
Please see images for details
Size: 6 1/2 tall x 8 1/4"
103 pages

"Rubáiyát of Omar Khayyám is the title that Edward FitzGerald gave to his 1859 translation of a selection of quatrains (rubāʿiyāt) attributed to Omar Khayyam (1048–1131), dubbed "the Astronomer-Poet of Persia"."

Roycroft founder Elbert Hubbard..."met William Morris and became enamoured of the Kelmscott Press and the arts and crafts movement in general. On his return to America, Hubbard started the Roycroft Press in order to publish a series of biographical sketches called "Little Journeys". Hubbard became well-known and collected a community of craftspeople around him in Aurora. These were skilled metalsmiths, leathersmiths, and bookbinders, and attracted the patronage of Henry Ford, Theodore Roosevelt, and Queen Victoria. Before journeying to England Hubbard was a member of the Chautauqua Literary and Scientific Circle, a nearby community which in 1902 began its own arts and crafts school."

If you have any questions or if you need additional images, please feel free to contact me.




Detail photos Click to enlarge