⬅ Return to collection
[uncategorized]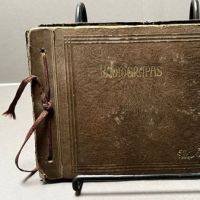 1927 Young Woman's Travel to Texas Elsa Dick Lee Collaged Images Photo Album
The Art of Photo Albums, a past time that started in the Victorian era when the snap shot and photography became more accessible.
The art of photo albums with the collage, cutting the images out and placing them in comical and decorative ways.
This small collaged photo album from 1927 was by Elsa Dick Lee, she went by Dick Lee mostly. The album is a travel log and memory of her trip from Oklahoma to Texas. She starts the album off with her name and newspaper clippings and dated Summer of 1927. Filled with photos, some cut and laid out with added images and clippings, all the photos labeled.

I have included a large amount of the pages but focused on the great ones. Sadly a few photos have been torn out and some pages were started and never finished.
The cover has wear and the back cover is torn off but the image from the cartoon is still glued down.
Enjoy the album and the images
Size: 8 inches long x 5 1/2 inches tall
Condition: fine with back cover not attached and some pages have images removed. Edges are chipped and cover shows wear and chipping. Photos inside the album are in very good condition. Please see the images for more details.
If you have any questions or need additional information, please feel free to contact me.
Noted:
Over seas buyers please email me for shipping quote, please provide me with a shipping address and postal code.
Detail photos Click to enlarge