⬅ Return to collection
Culture : Historical Memorabilia : 1900-1940s
This item has been sold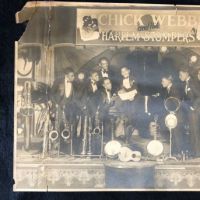 Rare 1927 Gelatin Silver Print of Chick Webb and Harlem Stompers First Orchestra Photo 11" x 14"
From a private collection in Baltimore, this estate was personal friends with Chick Webb
This appears to be the first image of Chick Webb and his orchestra, Harlem Stompers.
Gelatin silver Print of the first Orchestra Of Chick Webb
Chick Webb was born William Henry Webb, February 10, 1909, in Baltimore, MD; died June 16, 1939, in Baltimore.

Band Members:
"Chick Webb ́s Harlem Stompers of 25 August 1927 in Rust*6 should certainly be: Bobby Stark – tpt; William R. Paris – tbn; Johnny Hodges – alt; Elmer Williams – ten; Don Kirkpatrick – pno; Benny James – bjo, gtr; Leon England – bbs; Chick Webb – dms."

*I have taken more images and details of the photo and if you need more images, please feel free to email me.
Also note, the last image is from the web of the earliest poster of Chick Webb and as you can see, the image used is this photograph.

Size: 10 1/2 X 14 inches
Condition: Chipped corner on the top left and the left side is held together with Cellar Tape,

"Born Baltimore, Maryland
Bandleader and drummer extraordinaire William Henry "Chick" Webb overcame the challenge of physical disability to emerge as one of the stellar performers of the Big Band era. Webb showed an early talent for drumming despite being constrained from infancy by a deformed spine that hunched his back and restricted his growth. (His adult height barely exceeded four feet.) He acquired his first drum set by the age of twelve and progressed rapidly from street musician to dance band drummer. In 1926, after settling in Harlem, Webb launched his career as a bandleader. Within a year he and his orchestra were performing at the Savoy Ballroom, where they would vanquish formidable rivals such as Benny Goodman in the Savoy's storied battles of the bands. After recruiting Ella Fitzgerald to serve as his band's vocalist, Webb shared in his young singer's success in 1938 when her recording "A-Tisket, A-Tasket" became a nationwide hit."

If you have any questions or if you need additional images, please feel free to contact me.

Note:
shipping cost is for US only, if you are an over seas buyers please email me your shipping address to get a shipping quote.

**NOTE**
Please email me before purchase to get a detailed shipping with insurance for this item. Please email your complete shipping address and details on what type of shipping service you would want.


Detail photos Click to enlarge