⬅ Return to collection
1900-1940s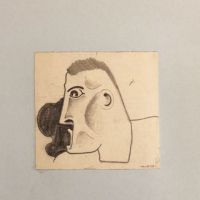 1928 Original Czech Art by Mario Dobrovsky Pencil Drawing Man's Head Bauhaus Style Art
Artist: Mario Dobrovsky

A collection of over 500 personal drawings discovered in Prague, done by a young Medical Student in the styles of Cubist, Bauhaus and Modernist influence dating from the 1925 to 1932, prior to infamous Munich conference and the annexation of Sudetenland by Nazi Germany.
Outside of this collection, no other work by the artist is known to exist. This collection captures the turbulent period through the eyes of a young student/artist/scientist, with drawing he illustrated a wide range of emotion, humor, cunning and curiosity. Some work are on scraps of paper then mounted to color paper. Others are intermingled with school assignments but each piece is a small masterpiece.

Title: Untitled
This Brutalist style art is done in the 1920's. Even though it is the 20's it does not have a deco look but more of Bauhaus/ Modernist Style. The man's head is a captured moment of time, showing the thick jaw of the man.
The quick but precise drawing is a modernist masterpiece and is truly impressive.


Size: coming soon
Condition: Fine, the paper is mounted to thin colored Card Stock Paper

If you have any questions or if you need more images, please feel free to contact me.

If you are interested in other pieces by this artist, please contact me.

Detail photos Click to enlarge