⬅ Return to collection
[uncategorized]
This item has been sold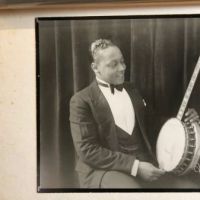 1929 Image of Mike McKendrick Banjo Player Big Band Jazz From Frank Driggs Collection
Mike McKendrick holding his banjo, the amazing multi instrumentalist of the high part of the big band jazz era.
Mike McKendrick played with countless and recorded with some of the top band leaders, Louis Armstrong, Tiny Parham, Art Tatum and more.
This photo and others of early Jazz and big band era all come from the same client's collection, John Brown.
He was a drummer and also a Baltimore Jazz concert promoter.
Many of these images he got from his person friend, Frank Driggs of Columbia Records.

Mike Mckendrick holds his banjo and is the photo with "With Best Regards to Danial (?) jr. from Mike and His Bacon 1-28-29"
the photo is dated in the photo 1929
I do not know who Danial Jr. is, I can not make out the last name.
"His Bacon" refers to the Banjo he is holding, the Bacon Banjo, "Fred J. Bacon started the company in 1920. Two years later, David L. Day left the Vega Company to join the Bacon Banjo Company.." Most likely a Jazz Tenor Banjo from around the time the photo was taken.

This photo and others I have, mostly came from Frank Driggs and where copied from his person and Columbia Archive. This Photographic copy of the original press photograph is dry mounted on cardboard with the a xerox of the name taped on the back of the board.
Please see the images for a visual description.

Size: 8 x 10 1/8 inches
10 1/2 x 14 1/8 inches board
Condition: fine, the photo has been dry mounted on board. The board does have some foxing the right side and right side bottom.

If you have any questions or if you need additional images, please feel free to contact me.

Detail photos Click to enlarge