⬅ Return to collection
Press Photography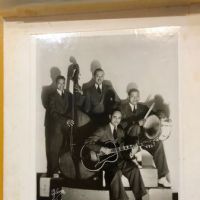 1936 Press Photo Fletcher Henderson Rhythm Section Frank Driggs Collection
Another Piece from the Baltimore Jazz Drummer and Music collector, John Brown, this one is Scoville Browne. It is not stated but almost all the images from this collection are images he got from Frank Driggs the RCA Music historian.
I have been working on a Jazz Photo collection from a Baltimore Md Jazz Drummer who passed in the 1970's who was active playing drums in the 1950's and later became a Jazz Concert Promoter in the late 196o's. His name was John Brown.
The image appears to be a reprint from the 1960's, not stated but most likely from the files of Frank Driggs.

Artist: 1936 Fletcher Henderson Rhythm Section
with Israel Crosby (Bass) Horace Henderson (Piano/ Arranger) Bob Lessey (Guitar) Sid Catlett (Drums)
Bio:
"The rhythm section was established as piano, bass, guitar, and drums; and the trumpet, trombone, and reed sections composed the front line. Arrangements were constructed in the call-and-response manner (e.g., the brass section "calls," the reed section "responds"), and many tunes were based upon "riffs," identifiable musical passages repeated throughout the song."
"Fletcher Henderson's brother Horace, also contributed to the big band sound of the 1930s.) Henderson arranged for Goodman for several years and formed a short-lived band of his own in 1936 that included Roy Eldridge, Chu Berry, John Kirby, and Sid Catlett."

Size: image is appox. 5 x 7 1/8 inches and the board is 12 1/2 x 10 inches
Condition: Near Fine. The image has been dry mounted to board is covered with a Glassine page.

If you have any questions or if you need additional images, please feel free to email me.
Detail photos Click to enlarge