⬅ Return to collection
Jazz : 1930-1940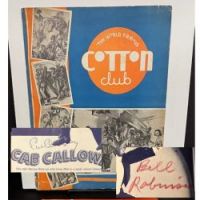 1939 Cotton Club Menu and Program Signed by Bill Robinson and Cab Calloway 1939 World's Fair
A Program and Menu from the amazing Harlem Jazz Club, The Cotton Club, Program is signed by Bill Robinson and Cab Calloway.

The Cotton Club was "The" spot for nightlife in during the big band jazz age, from 1923 to 1940. The Club had a lengthy and at the same time a tumultuous history. Starting out as a racially divided venue with only "black entertainment" and "white audience, the club was far from what we now know as the icon Harlem venue of Big Band Jazz.
The first Orchestra was Ellington's then Calloway's orchestra and then later Lunceford's orchestra. The club suffered and closed during the the Harlem Riots in the late 30's and in 1935 reopened to its all Black Patrons, the high caliber and energetic time of the club.

What is amazing about this collection is the fact that it has the signed program but also the Orginal Menu, a glimpse at the time of the big band jazz and just how great this club was not only in food but culture.
The Menu has the cover by Julian Harrison and inside the fist page is the entertainment, Both Bill Robinson and Cab Calloway have top billing with Sister Rosetta Tharpe, Beach Combers and Katherine Perry. The center is a two page spread of of course booze and wine, remember this was during Prohibition!! and the other side is the food with the paper clipped "Specials". The reverse has the Program with both Acts outlined.
The second piece in the collection is the Program for the World's Fair Edition. 8 pages filled with photos of the some of the top entertainers of the day, with some very "naughty" risqué images. The Centerfold has Bill Robinson and Cab Calloway, Robinson is tinted in a red pencil and the Calloway is signed in pen ink. Please see the images for both signatures.
Condition: The 1939 World's Fair Edition Program is in remarkable condition, almost near perfect. The signatures are crips and very clean along with the pages. No damage inside.
The Menu has pulling at the staples and a tear on the bottom part of the spine, bent corners and bumps from storage. The paperclip is rusted and has stained the page. Please see the images for more details.
Please feel free to email me for more images or if you have any questions.
NOTE:
International orders, please email me your shipping address before purchase with your address to get a shipping quote. The shipping price is for US buyers only.
Detail photos Click to enlarge