⬅ Return to collection
Jewelry : 1900-1940s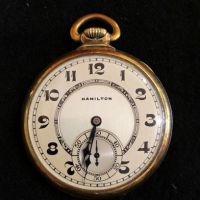 1939 17Jewel Model 912 Hamilton Watch Co. 14K Gold Case Waverly Printing Press Co. Near Perfect
1939 Model 912 17 Jewel adjusted Hamilton Watch Co. in 14K gold case and dedicated to a worker of 25 years for the Waverly Printing Press Co.


Hamilton Watch Serial Numbers and Production Dates
Year 1939 Serial Number: 3,400,000
This pocket watch is serial number 3439913 making the watch being produced in 1939, 1940 the serial numbers started with 4,000,000

Hamilton Watch Co. Lancaster PA.
Model number 912
17 Jewel Adjusted

The case is marked 14K Gold Keystone (guarented 14K Gold .585 fine) car number 20355
Open face case with decorated dial with second hand
The inside case is engraved with a recognition of years of service and the back of the watch a very nice Waverly Press insignia. Please see the images for details.

The watch is made for a man named C. Wilson Bates for his 25 years of for Waverly Press inc. December 25 1932.
The history of the company is one of survival for the company, having burned down in 1904 in their downtown location, the company moved to Waverly, a section in Baltimore City in 1907.
The service of 25 years of Mr. Bates would mean he started working when the company opened it's new location in Waverly.

"Waverly Press, which specialized in printing medical and scientific material, began, in 1909, publishing its first scientific periodical, The Journal of Pharmacology and Experimental Therapeutics. By 1924 the company was publishing 18 journals and 50 books. It split the next year into two divisions: Waverly Press for printing scientific and technical literature, and Williams & Wilkins for publishing scientific and medical books and journals."

If you have any questions or if you need additional images, please feel free to email me.

If you are an over seas buyer, please contact me for a shipping quote before purchase.



Detail photos Click to enlarge