⬅ Return to collection
1900-1940s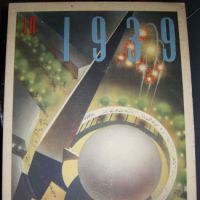 1939 World's Fair Poster by Neimbhard N. Culin Large Table Standing Poster
NEMBHARD N. CULIN designed poster of the 1939 World's Fair.
Original and copyright on the lower right bottom, "copyright 1937 New York World's Fair 1939 Incorporated"

The back side has the original stand and appears to have been unused.

Condition: Minor bumps to the corners, slight water marks on the edges and the back has some water drop marks, please see the images for details.
Size: 13.5 x 20 inches

If you have any questions or if you need additional images, please feel free to contact me.

"A colorful bird's-eye view of the Theme Center [showing] fairgoers entering the Perisphere from the Trylon and leaving by the Helicline." (The World of Tomorrow p. 195). Themed "The World of Tomorrow," the fair's main attraction, housed inside the Perisphere, was a city of the future called "Democracity," which visitors would view from revolving balconies. The story of this poster, contrary to many published descriptions, is as follows: It was published two years prior to the fair when the plans for the Trylon and Perisphere were first released to the press. It was not part of the later competition won by Joseph Binder for the poster design ultimately chosen to promote the fair. Also, the poster has often been mis-attributed to Alice Mumford Cunin, when in fact the artist was Nembhard N. Culin, an architect who worked with the architectural firm of Frost, Frost & Fenner designers of several pavilions for the fair. World's Fair."


Detail photos Click to enlarge