⬅ Return to collection
Military Memorabilia & Art : 1900-1940s
This item has been sold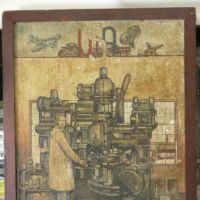 1941 WWII Propaganda Oil Painting on Board by Fellows Gear Sharper Bonds Beat Bunds and Machinists
WWII historical items have become a growing collectible area for many reasons. One reason is for it's defining moment in our nation's Humanitarian responsibility. It was a time when almost everyone felt responsible to help in conquering the European threat of Nazism that was sweeping across Europe. When the United States was attacked at Pearl Harbor this lead to our immediate involvement in the war and was when the United States moved into full production of war time items and materials.
Here is wonderful wartime piece produced by someone in the war time effort. The artist painted this piece for "Fellows Gear Shapers" and used it to show his support and effort for the war production. He was a Gear Shaper, which he signed his painting "George Calvin Graham 1941 OR 986". The lower left has the war time slogan of Bonds Beat Bunds.
The man is standing near his machine that made precision parts for automobiles, planes, and other scientific parts. The top section of the painting shows the different items his parts went into. The lower section shows a mock order form that is stamped Rush.
This is a wonderful painting in a naive style that will have special place for the WW II collectors.
The painting is approx. 19 1/2" x 25 1/2" and is in what looks like it's original frame. The painting is on a pressed wood and it does need to be cleaned. Some areas have "White Spots" which is paint loss.
If you have any questions or need additional information please contact me.
Detail photos Click to enlarge