⬅ Return to collection
Out Of Print : 1900-1940s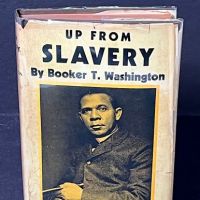 1946 Edition Up From Slavery by Booker T Washington Hardback with Dust Jacket Double Day and Co.
Up from Slavery is the 1901 autobiography of Booker T. Washington (1856–1915).
"The book describes his experience of working to rise up from being enslaved as a child during the Civil War, the obstacles he overcame to get an education at the new Hampton Institute, and his work establishing vocational schools like the Tuskegee Institute in Alabama to help Black people and other persecuted people of color learn useful, marketable skills and work to pull themselves, as a race, up by the bootstraps. He reflects on the generosity of teachers and philanthropists who helped educate Black and Native Americans. He describes his efforts to instill manners, breeding, health and dignity into students. His educational philosophy stresses combining academic subjects with learning a trade (reminiscent of John Ruskin). Washington explained that the integration of practical subjects is partly designed to "reassure the White community of the usefulness of educating Black people".

The book was published in 1900 in Outlook magazine and in 1901 by Doubleday & Co. and was printed a few times by them. This is the 1946 publication, which is very similar to the original 1st printing, same color end boards and a modified dust jacket.
Publisher: Doubleday & Co Garden City New York
Year: 1946
Condition: the end boards are fine with light wear on the front at spine edge. Binding is fine with light signs of use but all pages are intact and no damage to the binding. Dust Jacket shows wear and has chipping and water stains. Light chipping at the spine. Please see the images for more details.
If you have any questions or need additional information, please feel free to contact me.

Note:
Overseas buyers please email me for shipping quote, please provide me with a shipping address and postal code.
Detail photos Click to enlarge