⬅ Return to collection
Mid-century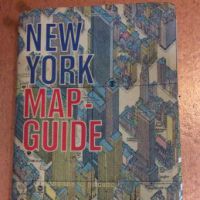 1962 Hermann Bollmann BIRD's-EYE-VIEW Pictorial Map of New York City American Airlines
1962 Hermann Bollmann BIRD's-EYE-VIEW Pictorial Map
NEW PRICE
New York Picture Map- Guide by American Airlines
Hermann Bollmann Drawn Map

Year: Pictorial Maps Inc. c.1962, New York, 1962.
This amazing and detailed map of New York City is one of the first to show this unique birds eye view perspective. Inside cover page tells about the artist and the special process in making this map with special designed and built cameras. These cameras took over 67,000 images and these were compiled and used by Bollmann in hand drawing this map.
Take a look at this map, it is mind blowing how detailed a drawing of this magnitude can be.


48 page booklet with large bird's eye view map of New York and the other side is a detail street map of Brooklyn.
Booklet Size: 5 x 9 1/4"
Map Size: Size : 838x1067 (mm), 33x42 (Inches)

Condition: The map is in great condition and in almost unused condition. but has a small tear at the fold, approx 3" long. The Map has been folded and stored in a drawer for years. The cover is in good condition, small water stain inside, Please see images for more details.

Marked No.40 created by Hermann Bollmann for Pictorial Maps Inc
Printed In Western Germany.

If you have any questions or if you need additional images, please feel free to contact me.

Detail photos Click to enlarge