⬅ Return to collection
2nd Edition : Mid-century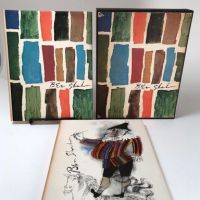 1963 Edition Ben Shahn Graphic Art and Paintings in 2 Volumes with Slipcase Published by George Braziller Near Mint Condition
Ben Shahn Graphic Art and Ben Shahn Paintings 2 Hardback Volumes in Slipcase
Title: Ben Shahn Graphic Art and Ben Shahn Paintings 2 Volumes in Slip Case
By: James Thrall Soby
Year: 1963 2nd Edition
Publisher: George Braziller
2 Hardback books with DustJackets in Decorative Slipcase.
Ben Shahn Graphic Art book is stated second edition from 1963
Ben Shahn Paintings is stated First edition from 1963
Ben Shahn was known for his works of social realism, his left-wing political views portrayed in his art. This great two 2 volume set breaks up his work into two parts, Paintings and Graphic Art.
Over 100 images of his Graphic Art showing his humor and satire. The forward states this is a complete collection of his graphic art.
The Paintings book having 96 images of his paintings with 24 in color.
Size:
Condition: The Slipcase has a slight bend to the case, please see image but when the books are in, the case is sturdy and very fine. Minor aging to the paper on the spine and the back image has slight soiling from age. Please see the images. The Books are both in near perfect condition with no writing or marks inside. The binding is near perfect on both volumes. The Dust Jackets both have soiling and aging on the spine. The Graphic Art DJ has slight chipping no the bottom edge and minor rubbing and soiling to the back of the DJ. The Paintings has aging and soiling to the Spine and very light soiling on the back of the DJ. Please see the images provided for a visual description of both volumes.
If you have any questions or if you need additional images, please feel free to email me.

NOTE:
The shipping price is for US residence only, international orders please email me before purchase to get a shipping quote. Please email me your mailing address to get a quote.
Detail photos Click to enlarge