⬅ Return to collection
Rare & Unique : Mid-century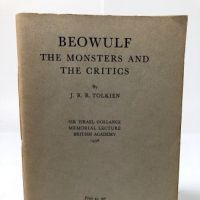 1963 Edition of J. R. Tolkien Beowulf The Monsters and The Critics Lecture in 1936 Published by Univeristy Press Oxford
Soft bound with printed wrappers, 53 pages, 3rd edition, 1958, 1960 and 1963.
A lecture given by J. R. Tolkien in 1936 at the British Academy, Tolkien's lecture on the literary criticism on the poem "Beowulf". "It was first published as a paper in the Proceedings of the British Academy, and has since been reprinted.." This edition is from 1963, the 3rd printing by The Oxford Univeristy Press, British Academy. The 1st printing was 1958. This is one of the early caught after editions and is in many intuitions and collections. A rare chance to add to your collection of Tolkien.
From Wikipedia: "Tolkien argues that the original poem has almost been lost under the weight of the scholarship on it; that Beowulf must be seen as a poem, not just as a historical document; and that the quality of its verse and its structure give it a powerful effect. He rebuts suggestions that the poem is an epic or exciting narrative, likening it instead to a strong masonry structure built of blocks that fit together. He points out that the poem's theme is a serious one, mortality, and that the poem is in two parts: the first on Beowulf as a young man, defeating Grendel and his mother; the second on Beowulf in old age, going to his death fighting the dragon.
The work has been praised by critics including the poet and Beowulf translator Seamus Heaney. Michael D. C. Drout called it the most important article ever written about the poem. Scholars of Anglo-Saxon agree that the work was influential, transforming the study of Beowulf."
Size: 8 1/2 x 5 1/2
Condition: very fine with very small top right edge bump with slight curl that pages. Back has light toning to age and very minimal pulls at the stamps. Appears to only have a few reads. Pencil marks on the first page, please see the images for more details. No marks inside or damage to the pages. In very fine almost near perfect condition. Please see the images for more details.
If you have any questions or need additional photos, please feel free to contact me.
NOTE:
The shipping price is for US buyers only. If you are an overseas buyer, please contact me before purchase with your shipping address to get a quote.
Detail photos Click to enlarge