⬅ Return to collection
Press Photography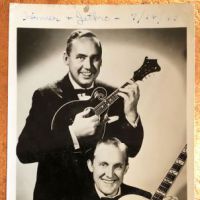 1963 Homer and Jethro Press Photo Card Signed on Back Full Names
Homer and Jethro..."stage names of American country music duo Henry D. "Homer" Haynes (1920–1971) and Kenneth C. "Jethro" Burns (1920–1989), popular from the 1940s through the 1960s on radio and television for their satirical versions of popular songs."

Dated on the front 7/14/65 and the reverse side full name signatures.. Homer Haynes and Jethro Burns.
Please see images and details of the signatures.

Size: 31/2 x 5 1/2 inches
Condition: fine with some soiling to the edges, image is crisp and sharp. The back tape marks and some soiling. Please see images provided for a full visual description.

If you have any questions or if you need additional images please feel free to email me.

Detail photos Click to enlarge