⬅ Return to collection
[uncategorized]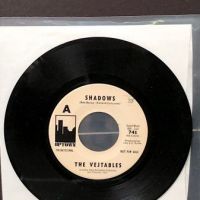 1966 Garage The Vejtables Shadows b/w Feel The Music on Uptown 741 White Label Promo San Fransisco California
The Vejtables Shadows b/w Feel The Music on Uptown 741 white label promo.
The band came from from Millbrae, California but really considered a San Francisco band, they started around 1965. They had early success on Autumn records, a label with a roster of amazing garage bands. The band released 4 singles and Shadows being their last record in 1966 on Uptown, a subsidiary of Tower.
Check out the single here
SIDE 1

SIDE 2


Condition: Vinyl is Vg+, has faint surface at the start but lessens to occasional and slightly heard, no tracking issues. Tones are great with great bass!. SIDE 2 has faint surface at the start but drops when music comes in. A couple very light hairlines on both sides, no tracking issues. Sleeve is generic white
If you have any question or need additional images, please feel free to contact me.
NOTE:
International orders. Shipping will be $18. Please contact me before purchase if you are an International buyer. I will need to adjust the shipping price to reflect a correct shipping cost to you.
Detail photos Click to enlarge