⬅ Return to collection
[uncategorized]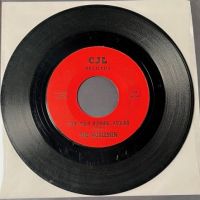 1967 Dallas Texas Garage The Noblemen Stop Your Running Around on CJL Records
The Noblemen Stop Your Running Around on CJL Records 1001.
A Dallas Texas Garage band with two singles, 67 and 68. Their first release, this one was on CJL. The label had this one and only single. Their second release was in 68 and was on an Oklahoma Record label, which again had only one release.
The A Side is damn good garage with a a strong primal pounding drum and plenty of keyboard. The song is pretty close to a Beatle riff but still all their own.
LISTEN HERE
SIDE 1

SIDE 2


Condition: Vinyl is low VG+, has light crackle at the start and can be slightly heard below the music. Visually the record has a few light hairlines but does not affect the tracking. SIDE 2 played equal and is visually the same. Labels are rated low VG+, light soil on one side, weak printing & other side has number sticker from Juke Box and name on label, still clean . Sleeve is generic white.
If you have any questions or if you need additional images, please feel free to email me.

Note:
shipping cost is for US only, if you are an over seas buyers please email me your shipping address to get a shipping quote.
Detail photos Click to enlarge