⬅ Return to collection
[uncategorized]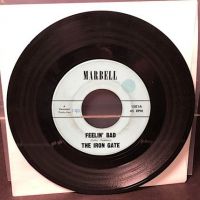 1967 Garage Single by The Iron Gate Feelin' Bad b/w My Generation on Marbell 1001 Philadelphia Band
The Iron Gate Feelin' Bad b/w My Generation on Marbell 1001.
The band was from Philly and had only two singles, this being their first one from 1967. The B side, an odd choice but does show what they wanted to be, a cover of My Generation. The band wanted to show their hip wild side.
Listen Here
SIDE 1

SIDE 2


Condition: Vinyl is low Vg+ sound wise, has very light surface in spots but very low. Visual, there are marks on both sides but does not effect the tracking and surprisingly does not effect the sound. Label has small stain on SIDE 1 and running time in marker, SIDE 2 has marks on vinyl but like SIDE 1 plays amazing. Sleeve is generic white.
If you have any question or need additional images, please feel free to contact me.

NOTE:
International orders. Shipping will be $18. Please contact me before purchase if you are an International buyer. I will need to adjust the shipping price to reflect a correct shipping cost to you.
Detail photos Click to enlarge