⬅ Return to collection
[uncategorized]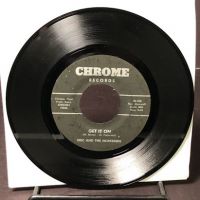 1967 Garage Single Midwest Eric and The Norsemen Get It On b/w Scotch And Soda on Chrome Records 45-103
Eric and The Norsemen Get It On b/w Scotch And Soda on Chrome Records 45-103
The band was a Midwest band, going to school together in University of Kansas, but would play college towns of Lawrence and Manhattan and in small towns around Kansas, Missouri and Nebraska.
The band only did one single, in 1967, their single was typical, a slow dance number a mellower song on the B side but the A side Get It On is a Mod Beat Garage Number.
Listen to the tracks:
SIDE 1

SIDE 2


Condition: Vinyl is VG+, sounds great with only a faint and tiny crackle at start but goes away quickly. SIDE 23 has light crackle at start and sporadicly heard through song. Both sides play equal and have light hairlines, no tracking issues. Sleeve is generic white.
If you have any question or need additional images, please feel free to contact me.
NOTE:
International orders. Shipping will be $18. Please contact me before purchase if you are an International buyer. I will need to adjust the shipping price to reflect a correct shipping cost to you.
Detail photos Click to enlarge