⬅ Return to collection
Advertising : Art : Posters : Mid-century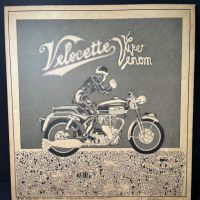 1969 Poster Ad for British Motorcycle Velocette Viper Venom Signed by Artist Ed Badajos Sawyer Press Counter Culture Poster
1969 Poster Ad for British Motorcycle Velocette Viper Venom Signed by Artist Ed Badajos Sawyer Press Counter Culture Poster
Velocette was "a line of motorcycles made by Veloce Ltd, in Hall Green, Birmingham, England. One of several motorcycle manufacturers in Birmingham, Velocette was a small, family-owned firm, selling almost as many hand-built motorcycles during its lifetime, as the mass-produced machines of the giant BSA and Norton concerns. Renowned for the quality of its products, the company was "always in the picture" in international motorcycle racing from the mid-1920s until the 1950s, culminating in two World Championship titles (1949–1950 350 cc) and its legendary and still-unbeaten (for single-cylinder, 500 cc machines) 24 hours at over 100 mph (161 km/h) record."
Like other British Motorcycle Companies, they were trying to break into the American Market but sadly the Veloce eventually closed in 1971.

As mentioned, motorcycles companies, British and Japanese companies were trying to break into the American market some like Triumph, Honda, BSA did well in American but Veloce never did. Trying to entice a young hip counter culture crowd, the company used The Sawyer Press to create a fresh ad, Ed Badajos designed this poster for Sawyer.

Ed Badajos, an artist I have had the honor in selling is original art and his amazing and very rare Filipino Food book.
Badajos…"Born and raised in Honolulu, Hawaiï, Ed Badajos was known primarily for his political cartoons, visual commentaries, and covers. He was the editorial cartoonist for the L.A. Free Press and his work appeared in The Staff and The Berkeley Barb. Badajos gained further exposure through syndication in the underground press of the '60s and '70s. His work is published in books like 'Dick! The Nixon Era' and 'Filipino Food'."
The is poster comes from a person friend of Badajos and is hand signed. Please visit my other Ed Badajos pieces available from this client on my website.
Size: 22.5 x 24.25 inches
Condition: The poster is mounted to foam board. The corners have small pin holes and water stains on the bottom margin, the Pen signature is still very clean and legible. Bottom right has a small stain and damage to the edge and the top has a small tear, please see the images for more details and full details of condition.
If you have any questions or if you need additional images, please feel free to email me.

Note:
shipping cost is for US only, if you are an over seas buyers please email me your shipping address to get a shipping quote.
Detail photos Click to enlarge