⬅ Return to collection
Mid-century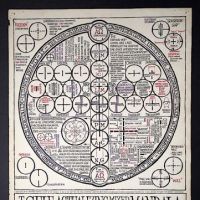 1969 Ron Cobb Original Poster The Self Actualizing Mixed Media Mandala Sawyer Press Underground Comix Artist
Ron Cobb Poster, The Self Actualizing Mixed Media Mandala
This strange and metaphysical poster is a different side of the political and satire of Ron Cobb
Year: 1969
Published by Sawyer Press
Heavy paper, off set poster.
Size: 17 3/4 x 22 inches
Condition: good with some chipping at the edges on the left and holes in the four corners. Light soil from age. Please see the images for more details .
From a previous Post on Sturgis Antiques site:
vist the post here:
https://www.sturgisantiques.com/items/archive-collection-of-ron-cobb-1960s-sawyer-press-collection/index.php#gsc.tab=0

"Ron Cobb
Known to many people from the 1960's and 70's who surrounded themselves with social political ideals and awareness of the currents flowing through the underground and counter culture movement.
Cobb, like so many people of the era were effected by the political currents of the time, seeing the dissent growing in the youth culture movement. We know of the music of protest and awareness but the underground comix artists like Robert Crumb, Kim Deitch, the amazing and biting wit of the Mad Magazine and the group around Harvey Kurtzman, along with those and others Ron Cobb stands side by side with this group and figures.
Ronald Ray Cobb (September 21, 1937 – September 21, 2020) was an American-Australian artist.
Some of his works…."Edited and published by Art Kunkin, the Los Angeles Free Press was one of the first of the underground newspapers of the 1960s, noted for its radical politics. Cobb's editorial/political cartoons were a celebrated feature of the Freep, and appeared regularly throughout member newspapers of the Underground Press Syndicate. Although he was regarded as one of the finest political cartoonists of the mid-1960s to early 1970s, Cobb made very little money from the cartoons and was always looking for work elsewhere. His cartoons were featured in the back to the land magazine Mother Earth News."
From Ron Cobb's Website:
"In the last two decades Ron Cobb has contributed production design to the films: The Last Starfighter, the aforementioned Conan the Barbarian, and Leviathan.
He also contributed conceptual designs to other feature films, including Dark Star, Alien, Close Encounters of the Third Kind, Real Genius, Back to the Future, Aliens, The Abyss, Total Recall, True Lies, The 6th Day, Cats and Dogs, Firefly and Southland Tales."
If you have any questions or if you need additional images, please feel free to contact me.
Note:
Over seas buyers please contact me before purchase with postal code to get a shipping quote. Shipping cost posted is for Domestic shipping only.
Detail photos Click to enlarge