⬅ Return to collection
Other : 1970-Contemporary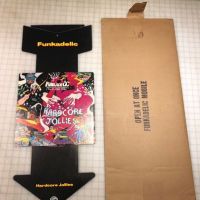 1976 Record Store Promo Mobile for Funkadelic Hardcore Jollies In Original Box Never Hung 
1976 Record Store Promo Funkadelic Hardcore Jollies In Original Box Never Hung
A hard to find record store Promo for Funkadelic Hardcore Jollies album issued by records label Warner Bros.
A hanging Mobile, never hung or used in the original cardboard box. Includes the mobile and the original string with hanger and the printed cardboard box for the mobile.
A time of adverting new records, when record stores were your guide book to what was coming and what was available.
The arrow, printed on both sides with the album cover art and a arrow pointing to where you can find it, the arrow would hang from the ceiling giving you the direction to the album.
Hardcore Jollies was Funkadelic's first major label album and was issued in 1976.
This Mobile has been used and sitting in a closet since 1976!
This amazing time capsule, includes the cardboard with the printed, Open at Once Funkadelic Mobile and the oringal string and metal hook. Please see the images provided for more details.
Size:
Condition: Slight water staining and soiling to the cardboard, the string is mint and never undone. The promo arrow has never been used or hung up but there is a slight sign of moisture marks at the edges but not affecting or marring the item. Please see the images for more details of the this almost near perfect artifact.
If you have any question or if you need additional images, please feel free to email me.
NOTE:
The shipping price is for US buyers only. If you are an overseas buyer, please contact me before purchase with your shipping address to get a quote.
Detail photos Click to enlarge