⬅ Return to collection
Historical Memorabilia : Posters : Vintage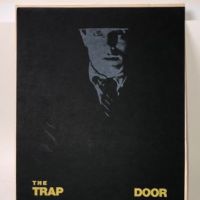 1980 Silkscreen Poster The Trap Door by Beth and Scott B Cinema of Transgression From the Film Makers of Vortex
A very rare piece of New York avant-garde down town art scene, Beth and Scott B's. The Trap Door
The Trap Door "Coming Soon" a film by Beth B & Scott B. 1980. Silkscreen poster on heavy stock black paper. Backside is a proof of the poster with partially printed poster, full image and missing printing of letter.
Starring John Ahearn, Jack Smith, and many other downtown New York luminaries, with Jenny Holzer, Gary Indiana, and Richard Prince.
Trap Door is Scott and Beth B last film shot in Super 8, their next film would be Vortex which was shot in 16mm.
Size: 11 x 17 inches.
Condition: Near Mint condition. The poster has never been hung or used, stored in private collection. Please see the images for more details.
The Trap Door was Beth & Scott B's last feature and was shot on Super 8. The movie is considered one of the earliest and some say forerunners of Cinema of Transgression. Coined by Nick Zedd, the style was gritty film making that used shock and dark humor and many of the "stars" were a part of the No Wave music and performance scene of New York. Two of the famous members of this movement were Richard Kern, Jim maker, artist and performer along with Lydia Lunch.
Scott and Beth B played a large part in the New York no-wave scene and punk filmmaking. "They went on to form an independent film production company called B Movies (a pun on B movies), which made the feature film Vortex on 16-mm film, starring Lydia Lunch (of Teenage Jesus and the Jerks) with James Russo, Bill Rice, Haoui Montaug, Richard Prince, Brent Collins, and Ann Magnuson, among others."
From an on line synopsis of the movie:
"A Nietzschian parable on the fate of innocence, THE TRAP DOOR follows the mishaps of Jeremy (John Ahearn) as he is fired by his boss (Jenny Holzer), gets laughed out of court by Judge Gary Indiana, loses his girlfriend to sleazy Richard Prince, is hustled by prospective employer (Bill Rice) and mauled by predatory bird-women. Finally, he seeks the help of a shrink (the legendary Jack Smith) who turns out to be the most demented of all."
If you have any questions or if you need additional images, please feel free to email me.

Note:
shipping cost is for US only, if you are an over seas buyers please email me your shipping address to get a shipping quote.
Detail photos Click to enlarge