⬅ Return to collection
Folk Art & Outsider Art : Pottery : Vintage
This item has been sold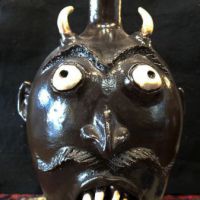 1986 Rodney Leftwich Asheville N.C. Grotesque Ugly Face Jug Devil With Tongue Whiskey Jug
1986 Rodney Leftwich Asheville N.C. Grotesque Ugly Face Jug
A Devil face with horns with tongue sticking out of the mouth.
Ugly jugs or mugs became an American folk art tradition beginning in the 1800s.
"The making of southern face jugs is a ceramic tradition that has been dated back to the 1840's. This pottery tradition continues to be of significant interest for many contemporary potters living in the South. Sometimes known as "ugly or grotesque jugs" face jugs were thought to have begun in Edgefield county South Carolina by African slaves who worked on the plantations as potters. These potters would work on the face jugs after the work of making functional pottery such as churns and storage jars was finished for the day. Many historians believe there may have been a spiritual connection to the face jug for these potters."

Rodney Leftwich in ..."1970s, Rodney Leftwich became interested in the regional folk pottery traditions of western North Carolina. He collected numerous examples, studying their forms, glazes, methods of manufacture and makers. Inspired by the simple functional forms and beautiful earth- toned glazes, he purchased a potters wheel and learned to make pottery."

Marked on the bottom "1986 Leftwich Asheville N.C."

Size: 9 1/2 inches tall and approx 6 1/2 inches deep
Condition: Near perfect with no breaks or cracks on the applied face. Please see the images provided for a visual description.

If you have any questions or need additional information, please feel free to contact me.

Noted:
Overseas buyers please email me for shipping quote, please provide me with a shipping address and postal code.
Detail photos Click to enlarge