⬅ Return to collection
[uncategorized]
This item has been sold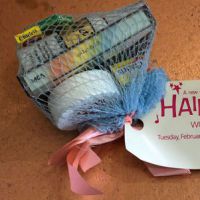 1988 World Premiere Swag Bag For John Waters Hairspray Baltimore MD Feb. 16th 1988
John Waters, the famous Baltimore native who for years had his movies shot and staged in Baltimore. So when the movies had their world premiere, he chose the amazing Art Deco Movie House, The Senator Theater.

A swag bag was given out at the world premiere to every attendee, the Senator Theater holds approx 900 people.
The Swag bag has the original label and has never been opened
Contents: Hairspray Tag with Date, and New Line Cinema logo and the back has the cast and credits.
The Bag contains 3 small boxes of Chicklets gum, a bottle of Rafet's Hair Master hairspray, A container of Stridex Maximum Strength pads and a Hairspray Mix cassette tape.

Condition: Unused and in very near perfect condition

If you have any questions or if you need additional images, please feel free to email me.


Detail photos Click to enlarge