⬅ Return to collection
2nd Edition : Out Of Print : Rare & Unique : Vintage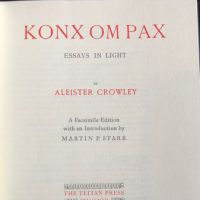 1990 Facsimile Pub. by Teitan Konx Om Pax: Essays in Light By Aleister Crowley
Title: Konx Om Pax: Essays in Light
By: Aleister Crowley

Year: 1990
Publisher: Teitan

Condition: Near perfect, with minor signs of use. Please see images for a complete detail.

"The first facsimile edition of this masterwork of Hermeticism and Magick, described by its author as "the most remarkable book on the Mystic Path ever written." It has long been treasured by students and collectors in its first edition of 1907. Crowley poured his occult knowledge, particularly that which he learned in the Hermetic Order of the Golden Dawn, into the four essays contained therein. It is an essential work for all students of the Golden Dawn and Magick"

If you have any questions or if you need additional images, please feel free to email me.

Note:
If you are an over seas buyer, please email me your shipping address to get a shipping quote, price listed is for US only.
Detail photos Click to enlarge