⬅ Return to collection
Rock : 1970-Contemporary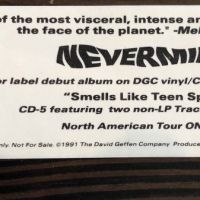 1991 Mint and Unused Promo Sticker for Nirvana Nevermind Record Release and Tour Geffen Records and Subpop Records Naomi Petersen Collection
Original and Mint Promo Sticker for Nirvana Nevermind Record Release and Tour David Geffen and Subpop Records
From the Collection of Naomi Petersen
From Naomi's Brother
"You may already know my sister's remarkable story. Naomi was a photographer, artist, SST employee, poet and friend.

She worked for SST from 1981-1987; employed as a bookkeeper, she was also the de facto photographer for the label - shooting bands like Black Flag, Circle Jerks, and the Minutemen. She also photographed most of the bands coming through Southern California in the 80s - Minor Threat, the Misfits, and many more - until she moved to Washington DC in 1989 and turned her lens to the metal scene and of course continued to shoot for friends. . Her work has been seen on album covers, inner sleeves, press photos - you may have seen her iconic images without knowing her name.
Her friendly, upbeat approach made her a favorite with local and touring bands, and she took portraits as well as promo shots and hundreds of relaxed candids; as her work spread through 'zines and covers, so did her reputation as an accomplished concert and band photographer.
What you are holding is from her collection of records."
All Items from Naomi's collection will come with a letter from her brother stating it is from her collection.

This original tour promo sticker of Nirvana's release of "Nevermind" was given to Naomi Petersen by Dave Grohl. Naomi was very close and personal friends with Dave through her friendship since his involvement in Scream, the DC hardcore band. Chris Petersen, Naomi's brother was very nice in giving me two images showing her friendship with Dave. One is a picture with Scream, the person used Naomi's camera to take the shot and the other image is a picture Naomi took of Dave. There are so many photos she took of Dave and Scream.
When Dave joined Nirvana, in 1990 Naomi was of course there to support her friend which she often did.
Along with other items I have posted from Naomi Petersen collection, this is another item she got directly from the band.

When you get this sticker, it will include a letter from Chris Petersen stating what these items are and that they come from her collection which he has taken over. Each sale will support the project which already has taken years to catalogue and preserve, the letter states…"Over her lifetime, my sister took over 40,000 photos".
Size: 2.25 x 6.5 inches
Condition: Mint and never used. Please see images for more details
If you have any question or need additional images, please feel free to contact me.
NOTE:
International orders. Shipping will be $26. Please contact me before purchase if you are an International buyer. I will need to adjust the shipping price to reflect a correct shipping cost to you.
Detail photos Click to enlarge