⬅ Return to collection
Medical & Oddities : 1800s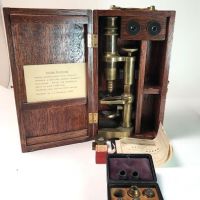 19th Century Brass F. W. Schieck Microscope no. 1782 Berlin With Woodbox and Box of Objectives and Lenses
Circa late 19th Century F. W. Schieck Microscope Brass no. 1782 with Box of Lenses and Two Eye Pieces Wood Case and Extras
F. W. Schieck Microscope with box of Lenses and two eye pieces and extras in wood case.
The wood box, as you can see is newer but made to specifications of what the original box would have been. The Eye pieces and extras fit almost perfectly inside the box along with the microscope.
The father Schiek, " …..F. W. Schiek was apprenticed to Ludwig Wisskemann, 1808-11" and "..became shop manager and partner to Pistor as Pistor and Schieck, 1824-36". Later on when his son apprenticed and took over the business, "Friedrich Wilhelm Hermann Schiek as an apprentice, 1860-64" and "F. W. H. Schiek (1843-1916) was apprenticed to his father; went to London and Paris; worked there for Hartnack as journeyman; entered his father's firm; specialized in developing high-performance biological and traveling microscopes; entered international various exhibitions from 1873-96."
As you can notice the spelling of the family name changed, when his son added the "C" before the "K".
This microscope is circa late 1800's, and you can see the number is 1782. The body and almost all the parts are brass.
These microscopes and the extra objectives were used "…like several other German makers of the time, he especially sold microscopes for meat inspection. Meat inspectors were looking for Trichinella spiralis the pork parasite which causes trichinosis in humans who eat the contaminated meat (particularly when incompletely cooked)."
The box is a hand made in the style and look of the original.
The set includes the Microscope stamped on the bottom with F. W. Schieck" and "Berlin no. 1782"
a box of different size objectives and two eye additional eye pieces including the one on the microscope.
A pack of Lens paper
A small box of glass cover
A glass slide
Size: Case is 11 1/4 x 6 1/4 x 4 inches
The Microscope is 10 1/4 inches tall
Condition: The microscope and all the contents are in near perfect condition. I have not tested the lenses but they appear to be in near mint condition. The brass has slight tarnish. I have not cleaned or altered this item in any way. Please see the images provided for a visual description.
If you have any questions or if you need more images, please email me.
NOTE:
Shipping is for US only, if you are an International buyer, please email me before purchase with your shipping address to get a shipping quote.
Detail photos Click to enlarge