⬅ Return to collection
Medical & Oddities : 1900-1940s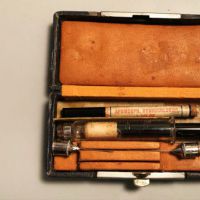 19th C. Narcotic Syringe with Morphine Vial Sub Q no. 2001 with Original Case
19th Sub Q Syringe, dark glass plunger,
The case has the original soft leather inside and 2 needles. The glass vial of Morphine as the original Label from Baltimore.
The vial is Apomorph. Hydrochloride
The Sub Q syringe, Model No. 2001 2 cc, with original dark glass plunger and still has the cotton wool.

Size: box is 3 1/2 x 1 3/4 x 7/8
Condition: near perfect with no visible cracks or damage to the glass syringe or where the needle is attached. The dark blue glass vial is not cracked or broken. The case is in very fine condition with minimal signs of use. Please see images provided for a visual description.

If you have any questions or if you need additional images, please feel free to contact me.

Note:
shipping cost is for US only, if you are an over seas buyers please email me your shipping address to get a shipping quote.

Detail photos Click to enlarge