⬅ Return to collection
Art : 1800s
This item has been sold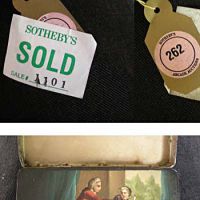 19th Century Continetal French Erotica Box
This is a mid 19th c. Continental Erotica box. The paint is still vibrant and very minimal paint loses to the erotic scene.

The estates owner bought this from Sotheby's in Sept. 1984 at the Arcade auction. The front is a beautiful detailed portrait of a woman. The Erotica scene is located in a hidden trap door underneath the lid. The Erotica scene is very detailed and explicate. The box has original tags from The Arcade auction (New York) and is in remarkable shape. The box measures 4 1/2" wide x 2 1/2" deep x 1" tall. A great and rare to find in such amazing shape.

If you need more photos or have any questions please email me.