⬅ Return to collection
1st Edition : Rare & Unique : 1900-1940s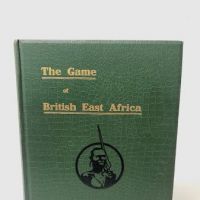 1st Ed Hardback The Game of British East Africa by Capt. C. H. Stigand 1909 Published Horace Cox Bookplate Lord Belhaven and Stenton
Title: The Game of British East Africa
By: Capt. C. H. Stigand
Year: 1909
1st edition hardback with faux Aligator Skin and gold embossed writing on the front with vignette of African Hunter. Spine has gold embossed writing.
Published by: Horace Cox London "Field Office, Windsor House, Bream's Building"
The inside of the cover has Bookplate with Crest of Robert Alexander Benjamin Hamilton, 12th Lord Belhaven and Stenton (1903–1961) or possibly the bookplate of Robert Anthony Carmichael Hamilton (1927–2020)
"Robert Alexander Benjamin Hamilton, 12th Lord Belhaven and Stenton (16 September 1903 – 10 July 1961), was a Scottish soldier, colonial administrator, author, and peer. He was a Fellow of both the Royal Geographical Society and the Royal Australasian College of Surgeons."
Robert Anthony Carmichael Hamilton was not as active in the heredity of his late father but did serve in the military.
I believe the crest is from the the 12th Lord, the paper is older and the steel plate engraving leads me to believe this is from circa 1920's, pre WWII printing.
Please see the image of the Bookplate for more details.

The book is considered one of the top and best books about Hunting and Stalking Big Game in Africa at it's time. A rare and very fine example of this Out of Print and Rare book.
The Book is numerous black and white photos and the text is in English. The book cover and back is faux aligator skin, the inside first fly pages are a beautiful gold printed paper. The back few pages have remarkable Ads for Guns, and other Hunting needs. Please see the images of this detail
Size: 9 x 11 x 1 1/2 Inches
Condition: The cover is Very Fine with light bumps to the corners. The spine has very light wear to the top and bottom from shelf wear. The back is in Near perfect condition. The Edge of the paper has light foxing on the top and bottom. Fist few pages have a tiny and light amount of foxing. Please see the images. The binding is tight but center of the book does show light wear from use and age, page 166 after the two photos. No loose pages. Over all in Very Good condition. Please see the images for more details.
If you have any questions or need more images please feel free to contact me.
NOTE: The price for shipping is for US buyers only. If you are an overseas buyer please contact me before purchase to get a shipping quote. Please provide me with your shipping addres
Detail photos Click to enlarge