⬅ Return to collection
1st Edition : Vintage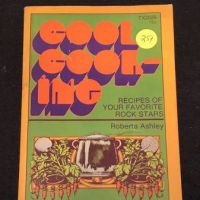 1st Edition Cool Cooking Recipes of Your Favorite Rock Stars by Roberta Ashley Pub by Scholastic Book Services
1972 Cool Cooking Recipes of Your Favorite Rock Stars by Roberta Ashley Paperback Ed Published by Scholastic Book Services 1st Edition.
The great book and very rarely seen cookbook of the Stars, not your typical Hollywood but the rock stars. You always wanted to know what made them "run"….. here you go!!
Wicked Willson Picket eating Ham Hock and Green Beans, Elton John eating Shrimp Curry, Kris Kristofferson eating his Tacos with Taco Sauce and the great Link Wray making his Spoon Bread. So many more, 176 pages more in this original 1st printing of this paperback.
Title: Cool Cooking Recipes of Your Favorite Rock Stars
By: Roberta Ashley
Year: 1972
Publisher: Scholastic Book Services
Stated 1st Printing Paper Back edition.
Printed cover with over 67 photos of the musician and detailed recipes

Size: 7 5/8" x 5 5/16"
Condition: Very Fine with tight binding and no writing inside, very clean pages. The cover has sticker of $0.25 in yellow sticker, slight water marks on the cover and on the spine, slight discoloring to the top edge. The back has small stain on the back and slight signs of shelf wear. Please see the images for more details.
If you have any questions or need more images, please feel free to email me.
NOTE:
The price listed is for US. If you are an overseas buyer please email me your shipping address before purchase to get a shipping quote.
Detail photos Click to enlarge